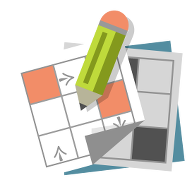 Solve arrowword, crossword, sudoku and takuzu puzzles right on your smartphone or tablet.
Play anywhere, at any time!
Features
Crosswords, takuzu, sudoku in the same app!
Auto-save
Get a hint or the complete solution when you want
Check for errors
Save multiple states of a puzzle to try different possibilities
Pencil marks (sudoku)
Pinch to zoom (or double tap)
Search a word on the Internet
Multiple difficulty levels
Puzzles
Des centaines de grilles sont déjà disponibles :
Mote than 200 arrowword puzzles in English, 200 in French and 30 in Italian
Mote than 400 crossword puzzles in English and 100 in French
Mote than 600 sudoku puzzles
Mote than 500 takuzu puzzles
Many puzzles are regularly added.
Play now!
Get the application on Google Play Store for free: